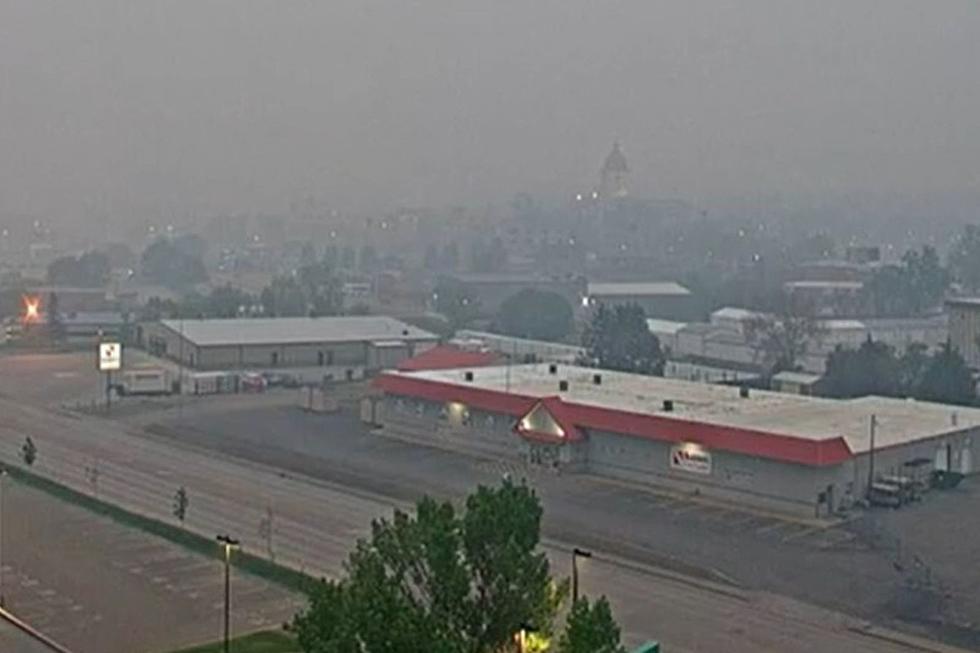 How Dangerous Is the Smoky Haze Blanketing South Dakota Skies?
Dakota News Now (with permission)
If you think you've been smelling smoke the past couple of days, don't worry, you're not imagining it, nor does your neighbor Fred down the street have his firepit blazing at 10 in the morning.
What you smell, and in some cases can even see, is the haze created by all those large clouds of smoke coming off the wildfires burning in Alberta, Canada.
It's wildfire season right now in that region of Canada, and as of Wednesday, (May 17) there were 91 wildfires burning near Alberta, and 27 of those wildfires are out of control.
Strong winds have carried that smoky haze all the way into South Dakota this week. As Dakota News now reports, things have gotten so bad already in some parts of South Dakota that you can actually see visible clouds of smoke in the sky, which is reducing visibility in areas.
Fortunately here in Sioux Falls, the air quality index as of Thursday, (May 18) is still good. But in other areas of South Dakota, like Aberdeen, Pierre, and Watertown that is not the case. Those areas are experiencing unhealthy to hazardous conditions at the moment.
Just how dangerous is this smoky haze blanketing the skies of South Dakota?
Well, there's no denying this haze can make for some spectacular-looking sunrises and sunsets, but the degraded air quality can also be dangerous for those who have health conditions that place them in high-risk categories.
The website MyHealth.alberta.ca says the biggest risk from smoke being generated from a wildfire is all the little particles found inside the smoke. These particles can often get in your eyes, your respiratory system, and your bloodstream. Resulting in burning eyes, a runny nose, coughing, and for some people, trouble breathing.
Who is at the biggest risk?
People who have heart and lung disease.
The elderly. (Those with heart and lung issues are at a greater risk.)
Pregnant women.
Small children.
Those who work outdoors or participate in frequent outdoor sports activities.
How can you protect yourself?
If you fall into one of those categories and find yourself living in an area that has a heavy concentration of haze and smoke brought on by wildfires, experts say it's best to stay indoors with your windows and doors closed. Especially when the air quality outdoors reaches a dangerous level.
And should you ever find yourself suffering from shortness of breath, wheezing, dizziness, chest pains, or heart palpitations it's recommended that you contact your physician and seek immediate medical assistance.
Source: Dakota News Now/My Health.Alberta.ca
7 Things Real Sioux Falls Residents Look Forward To Every Spring
Springtime in Sioux Falls, South Dakota offers some very uniquely 'Sioux Falls' experiences. Here are 7 of those things. Can you think of more?
10 Most Dangerous Cities in South Dakota
Cities on the east and west side of the Missouri River have made the latest list of South Dakota's Most Dangerous Cities for 2021.
Roadsnacks
recently released its most 'Dangerous Cities' list and here in The Mount Rushmore state there are a few surprises, especially at the top. To determine the most dangerous cities in the state, Roadsnacks looked at the FBI's report on the latest violent crime, along with property crime statistics.
And surprisingly, the town with the most murders per capita in the state has less than 3,000 residents. Take a look at the list below.
More From KKRC-FM / 97.3 KKRC