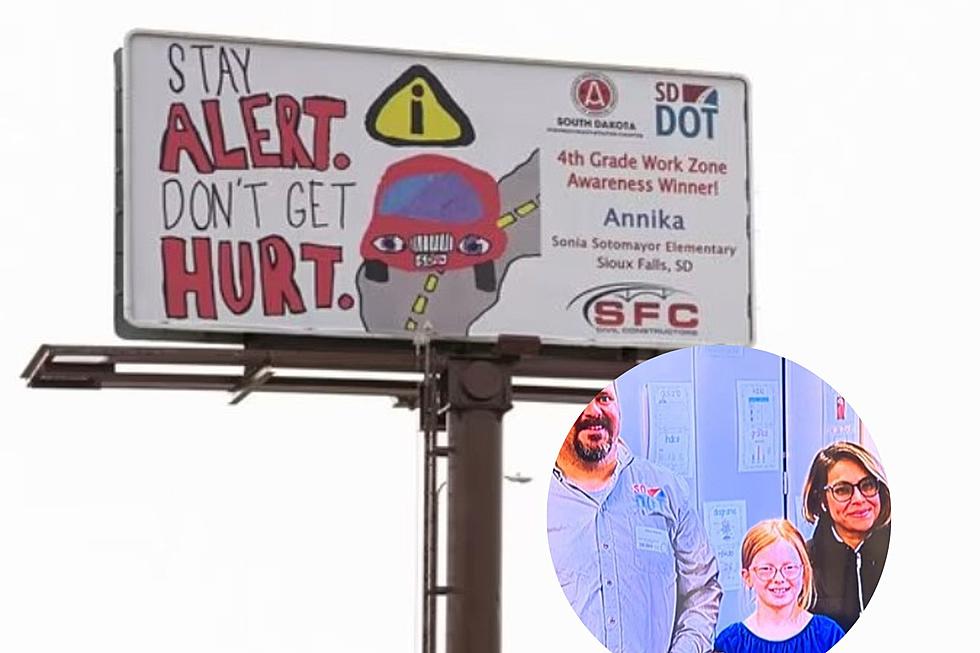 Sioux Falls Elementary Student to Have Artwork Displayed on Billboard
Dakota News Now (with permission)
A Sioux Falls elementary student is going to have a recent artwork project displayed in a very prominent place in town.
Annika Kimber, a 4th-grade student at Sonia Sotomayor elementary school in Sioux Falls is receiving some very cool recognition from the South Dakota Department of Transportation.
According to Dakota News Now, Kimber was chosen this week as the winner of the 2023 "Work Zone Awareness" billboard artwork competition.
For her exemplary work, Kimber will have her artwork project displayed on a billboard on Interstate 29 near the 41st Street exit.
In addition to her billboard gracing one of the highest traffic areas within the city, Kimber also received a mini billboard of her art project, so that she'll always be able to remember this momentous occasion, along with a $25.00 check for herself, and another $100.00 check for her entire classroom.
If you're wondering, the theme of Kimber's billboard is, "Stay Alert. Don't Get Hurt."
A very good reminder for every driver and road construction worker as we celebrate "National Work Zone Awareness Week", all this week throughout the country.
Source: Dakota News Now
9 Ways To Ruin Your South Dakota Driving Record
Did you know that
South Dakota
uses a points system with your driver's license? Meaning that if you are convicted of a moving violation, get a ticket, you get a certain number of points.
If those points add up to 15 in one year, or 22 points in two years, you can get your license
suspended
. Then after the suspension, you'll have to pay application fees and the reinstatement fee.
So, what are the violation that can earn you the most points? Let's find out.
11 Famous People from South Dakota
OK, so we're not Hollywood, but there are a number of famous people who were born in the Rushmore State. Here's a list of 10 famous people who were born in
South Dakota
!
More From KKRC-FM / 97.3 KKRC