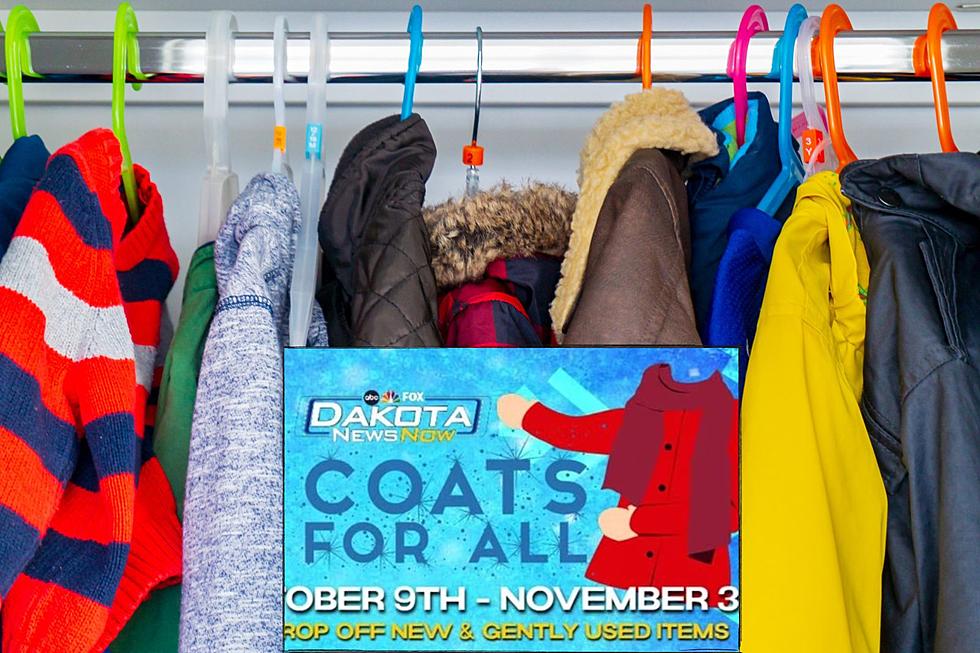 36th Annual 'Coats for All' Coat Drive in Sioux Falls Starts October 9th
Joyce Grace/ Dakota News Now (with permission)
Yeah, I know the temps are still in the 80s now, but we South Dakotans know that is soon about to change. In just a matter of days, a cool-down is supposed to start, that will have us all scrambling to find a sweatshirt, jacket, and gloves to help keep us warm until at least April.
What's frightening is the fact that many of our friends and neighbors don't have any or enough warm clothing to help them survive what will likely be another brutal South Dakota winter.
For that reason, our friends over at Dakota News Now are about to kick off their annual  "Coats for All" coat drive for the upcoming cold weather season here in the Sioux Empire.
For the 36th year, Dakota News Now, together with Billion Auto, Avera, and Sioux Laundry are teaming up with The Salvation Army to make sure the winter season is a little warmer for those in need.
As Dakota News Now reports, starting Monday (October 9) you can begin to drop off new and gently used coats, hats, gloves, and other warm attire at drop boxes located inside all of the Billion Auto dealership locations in Sioux Falls, Dell Rapids, and Worthing. There will also be a drop box set up inside the Salvation Army headquarters at 900 North Cliff Avenue in Sioux Falls.
Dakota News Now and its partners will be accepting donations through Friday (November 3).
Once all of the donations have been made, the gang at Sioux Laundry takes over by cleaning up all of the clothing and then handing the items over to the Salvation Army so the various pieces can be distributed free of charge to those in need throughout the community.
It's an awesome program that really helps to impact a large number of people in and around the Sioux Falls area.
If you want additional information on how you can help, contact Kaig Havrevold at Dakota News Now by calling (605) 336-1300 or emailing him at Kaig.Havrevold@dakotanewsnow.com.
Source: Dakota News Now
10 Wild South Dakota Snowstorms
Even though snow is blanketing the Sioux Empire, some snowstorms still do not compare to these ten dreadful snowstorms that hit
South Dakota
.
Only In Your State
highlighted ten snowstorms in South Dakota as a reminder for people to always be aware of the road during the winter. South Dakotans are well aware of the fact that the state's winters can be harsh which is why it is always a good idea to plan ahead and prepare for the worst.
Do you remember any major snowstorms that hit South Dakota?
Gallery Credit: KXRB
11 Things You'll Only Understand After Living in South Dakota
From soda to pop to sloppy Joes, different parts of of the country have their own local quirks and language. Simple phrases can have totally different means, local events may seem weird, and food may go by a unique name.
If you're new to South Dakota here is a sort of translation guide for some odd things you may see or hear.
Gallery Credit: Ben Kuhns
More From KKRC-FM / 97.3 KKRC