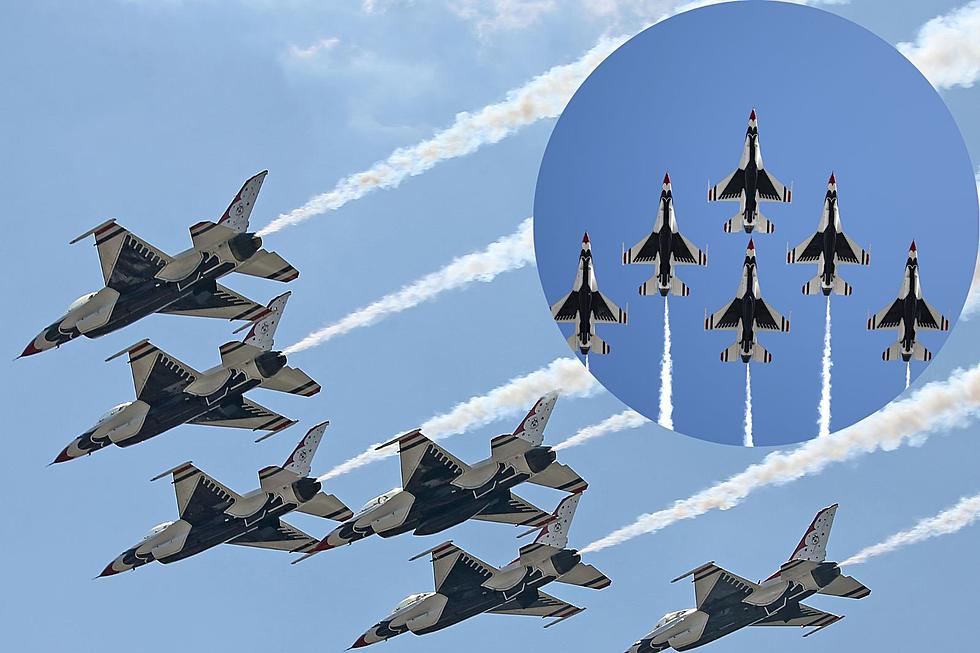 What You Need to Know about the Sioux Falls Airshow This Weekend
Getty Images
Look, up in the sky, it's a bird, it's a plane, it's several really cool-looking planes.
If you're a lover of aircraft, military aircraft in particular, then you will absolutely love being in Sioux Falls this weekend.
There is going to be some serious Power on the Prairie this Saturday and Sunday (July 29 and 30th) as the Sioux Falls Airshow makes its return to the Sioux Empire.
The Sioux Falls Air Show is July 29 and 30th, 2023
The airshow comes around every three years, and the 2023 version of the Sioux Falls Airshow will provide plenty of reasons to turn your attention toward the Sioux Falls Regional Airport this weekend.
Get ready to see a mix of history and modern-day as a wide array of military and civilian aircraft will be on display and soaring through the skies of the Sioux Empire this Saturday and Sunday.
This 2023 airshow is headlined by the United States Airforce Thunderbirds which take flight both Saturday and Sunday right around 2:30 PM.
Also cruising over the skies of the Sioux Empire this weekend will be a piece of World War II history, as a C-47 named "That's All Brother", the actual aircraft used to drop paratroopers over Normandy during World War II will be in flight. As well as the South Dakota Air National Guard F-16s, the USMC MC-22 Osprey Demonstration Team, the USAF F-16 Viper Demonstration Team, and many more.
Static displays of both old and new aircraft will be on hand on the runways surrounding the South Dakota Air National Guard Building on both days.
The Sioux Falls Air Show Entrance Fee and Hours
The airshow is absolutely FREE and runs from 8:30 to 5:00 PM on Saturday and Sunday. With performances getting underway at 11:00 AM both days.
Shuttle buses to and from the airshow will run from various parking lots throughout Sioux Falls. The cost is $5.00 per person. Children under 5 ride for free. A complete list of those lots can be found here.
Right now, it looks as if it's going to be hotter than the surface of the sun this weekend in Sioux Falls, and twice as hot out there on the tarmac. So if you're heading to the airshow, please remember to stay hydrated.
Water and soda will be available for sale. Spectators can also bring along empty water bottles that can be filled at water stations located on the grounds.
You can check out the complete list of airshow do's and dont's, along with all the Sioux Falls Airshow information here.
15 Free Things to Do with Kids in Sioux Falls
"What are we gonna do with these kids?" A question every parent askes, especially in the summer. And it's always better if what you do with the kids is free.
Sioux Falls
is a small city full of big fun for all ages, and a lot of it is free. We have world-class parks, museums, live music and so much more. Here's a handy list of 15 free things for you and the kids to do in
Sioux Falls
.
Twelve South Dakota Places to Put on Your "Must Visit" List!
Make the most of summer in
South Dakota
and visit these spots that speak to why SD is great!
A lot of them you might have visited, some you haven't for sure, and some are old favorites that maybe you haven't been to in a while. So, while there is still a little time or even one more weekend, and gas prices are down a bit - - try and make it to one of these great places.
What can be found in these 12 locations?
What can't? Camping, fishing swimming, kayaking, birdwatching, and tons of other great outdoors-type activities. Historical, educational exploration, hobby interests, kids activities, just plain old beautiful scenery, and- - to use an overused phrase- -lots more!
With all of that in mind, let's dive in!
More From KKRC-FM / 97.3 KKRC