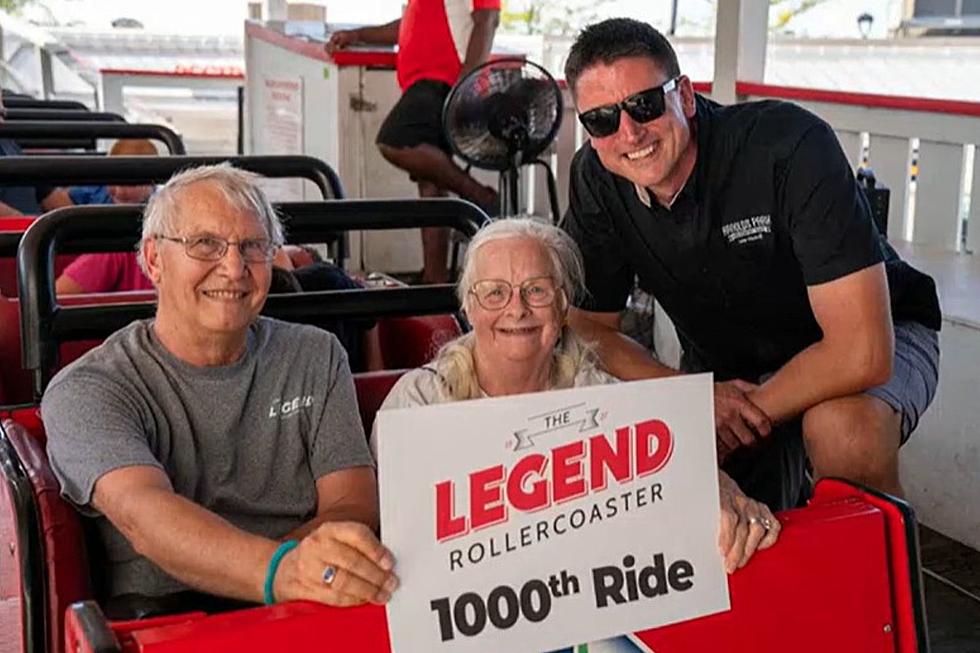 Retired Iowa Couple Sets Amazing Roller Coaster Record at Arnold's Park
Dakota News Now (with permission)
Even the Griswolds themselves would be impressed with this record.
A retired Iowa couple reached an amazing amusement park milestone this past summer. Tom and Margaret Wuggazer rode the Legend Roller Coaster at Arnolds Park Amusement Park in Okoboji, Iowa exactly 1,000 times throughout the course of the summer of 2023.
Dakota News Now reports the Wuggazers started counting their roller coaster rides once Arnold's Park opened for the season back in May.
They wrapped up their record-setting 1000th ride on Sunday, September 3rd.
One thing is for certain, the Iowa couple loves themselves some roller coasters! Dakota News Now reports that according to an article in the Des Moines Register, last year, the Wuggazers took a cruise on the Legend Roller Coaster over 600 times during the summer of 2022.
Evidently, the two must have some really strong stomachs because the couple bested their previous roller coaster ride record by nearly 400 this season.
Dakota News Now says Arnolds Park Amusement Park celebrated the milestone by making a special sign for the Iowa couple and sharing a bunch of photos on social media.
Of course, many Sioux Falls residents visit Arnold's Park every summer given that Okoboji is just a little more than an hour and a half away from Sioux Falls. So chances are you've probably ridden, or are at least familiar with the Legend Roller Coaster yourself. If so, you know it's not the biggest amusement park roller coaster out there, but it is an entertaining one nonetheless.
A ride on the Legend takes roughly 80 seconds to complete, so if you run the math, the Wuggazers spent over 22 hours riding the Legend Coaster this past summer.
Let's see you beat that record, Clark W. Griswold!
Congrats to the Wuggazers on quite the accomplishment.
Source: Dakota News Now 
Twelve South Dakota Places to Put on Your "Must Visit" List!
Make the most of summer in
South Dakota
and visit these spots that speak to why SD is great!
A lot of them you might have visited, some you haven't for sure, and some are old favorites that maybe you haven't been to in a while. So, while there is still a little time or even one more weekend, and gas prices are down a bit - - try and make it to one of these great places.
What can be found in these 12 locations?
What can't? Camping, fishing swimming, kayaking, birdwatching, and tons of other great outdoors-type activities. Historical, educational exploration, hobby interests, kids activities, just plain old beautiful scenery, and- - to use an overused phrase- -lots more!
With all of that in mind, let's dive in!
Dives Worth a Drive in South Dakota, Iowa and Minnesota
Almost every small South Dakota town has a watering hole. It's where the locals go to kick back a few brews and engage in conversation.
Some of these establishments are located in
buildings almost as old
as the town itself. There might be a fresh coat of paint on the walls or new vinyl on the booth seats, but the ambiance is still reminiscent of a good ol' dive.
If you think a "dive" is all about the sketchy clientele, the smell of the Devil's lettuce, and stale
Grain Belt
, you'd be wrong. Not
every
dive has a bad reputation.
What makes a dive, a dive?
A dive has character. Neon beer signs and local memorabilia adorn the walls.
You might find a pool table, dart board, and a few video lottery machines.
The bartender knows the regulars by name and they know what you drink.
Some dives don't even serve food except for bags of chips and pickled eggs that sit in a jar of brine on the bar.
Dives aren't fancy. You might see 70's-style wood panels on the walls and wobbly tables leveled with a folded napkin.
Finally, the bathrooms. The bathrooms in dives are in a class by themselves and could be a whole topic on its own.
There are several small-town dives in our area with friendly faces, cheap booze with a burn, and even really good food! We use the term "dive" in the most affectionate way.
Here are some of the best and why you should go there.
More From KKRC-FM / 97.3 KKRC