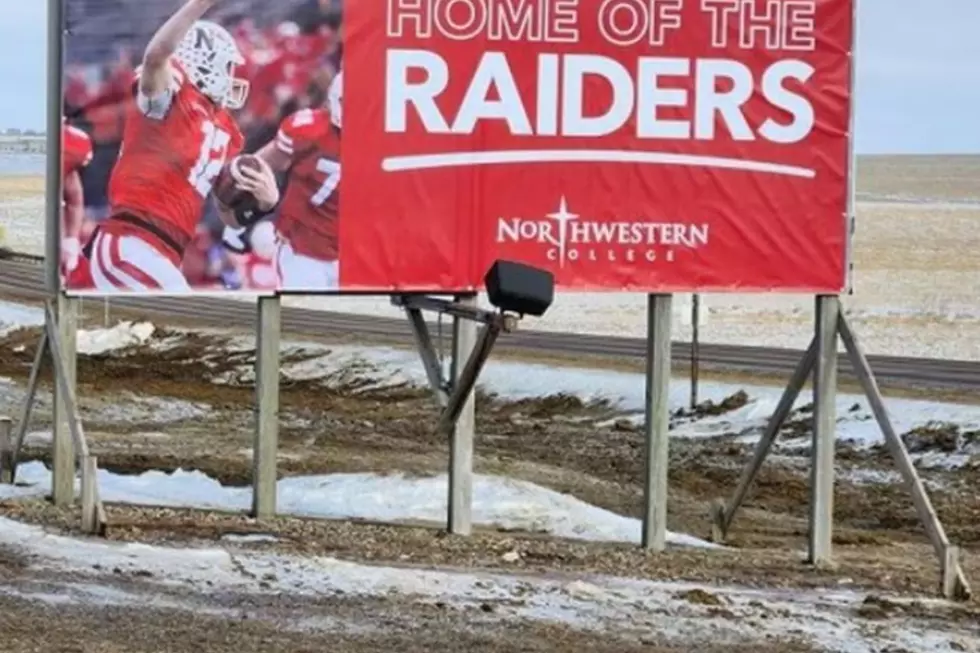 Iowa Northwestern College Football Billboard Goes Missing
Dakota News Now (with permission)
Someone is either a big Iowa Northwestern College football fan or they despise the team. I'm thinking fan since Northwestern College did just win its first National Championship since 1983, so I'm guessing we're dealing with a rabid Red Raider fan that was looking for something really cool to display in their man room or garage to help commemorate the victory.
Either way, a billboard for Iowa Northwestern College football has gone missing, and that's definitely not a news story you hear about every day.
The Sioux County Iowa Sheriff's Office is attempting to locate the person responsible for stealing the roadside billboard near Orange City, Iowa.
Dakota News Now reports, the Northwestern College football billboard disappeared sometime between January 16 and 28th, at the intersection of 470th Street and Jackson Avenue, about one mile south of Orange City.
According to Dakota News Now, Sioux County sheriff's deputies recently discovered that someone walked off with the large piece of canvas used to display the artwork on the billboard.
As you can imagine, a piece of canvas that size is not cheap, authorities estimate its value at around $700.
The Sioux County Sheriff's Office is asking for the public's help as they attempt to track down this billboard burglar.
So, if you have been inside the dorm room, garage, or man room of a Red Raider fan recently that had a ginormous piece of artwork for Northwestern College football in it, let's say one, that resembles the picture above, you may want to give the Sioux County Sheriff's Office a buzz.
The number to call with any information regarding the crime is (712) 737-3307.
Source: Dakota News Now
30 Ways You Might Have Already Broken the Law Today
Most of us try the best we can to be law-abiding citizens, but did you know that you may have been breaking the law without even realizing it?
BestLifeOnline
has a list of 30 of the most common transgressions. How many have you been guilty of over the years?
Out of 30, I am guilty of 19. And no I won't tell you which ones.
13 Famous Iowans
It's a great day for Iowans. The first ever Major League Baseball game was played in Dyersville, Iowa last night (August 12) in The Field of Dreams game and it was awesome!
What a great way to showcase a beautiful state and celebrate the hospitality of Iowans.
Iowa may seem far away from Tinsel Town, but The Hawkeye State has produced many famous actors, musicians, and athletes!
The following 13 are just the tip of the iceberg!
More From KKRC-FM / 97.3 KKRC