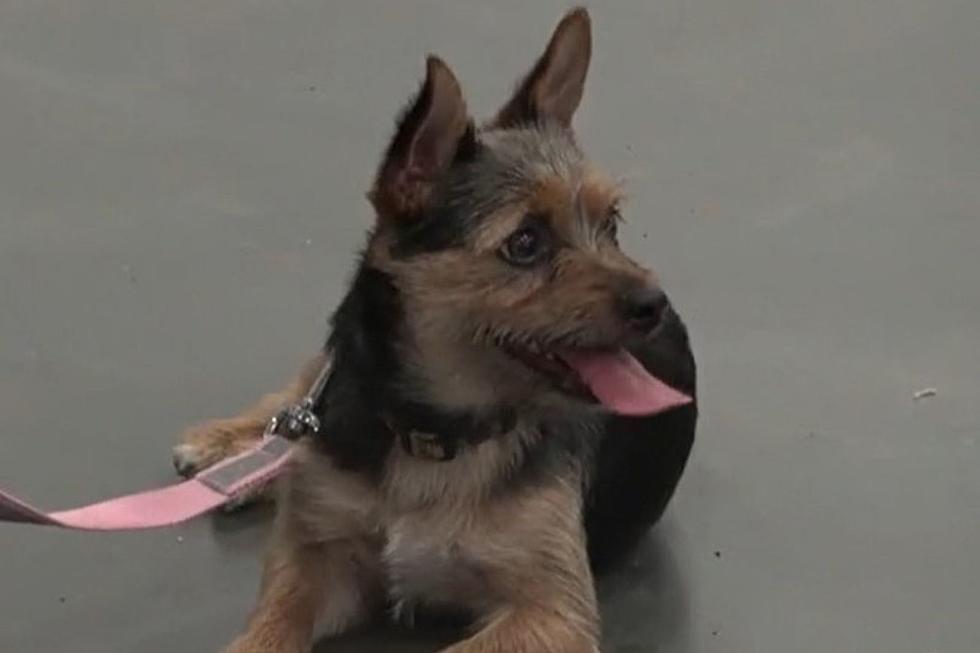 Dog Left in Cage outside Sioux Falls Business Thursday Morning
Dakota News Now (with permission)
Thursday was not your ordinary, average day at the Habit for Humanity Store in Sioux Falls. The day began with employees finding a puppy left out in the heat, inside a cage, in front of the store as they got to work that morning.
Dakota News Now is reporting that an unidentified man abandoned what appears to be a Yorkie mix puppy sometime early Thursday morning (July 27) outside the store at 721 East Amidon Street in Sioux Falls.
Habit for Humanity Executive Director, Rocky Welker, told Dakota News Now, "As you can imagine, it kind of slows things down in the morning when everyone gets here, we're all trying to get ready, get started for our day. You throw a puppy into the mix and all of a sudden people are sitting on the floor, they're playing with the dog, and then we also have to realize what are we going to do next?"
The puppy who employees quickly started calling "Mystery" was loving life Thursday as it received loads of attention from all the Habit employees on duty. A few of the workers even took the dog to the vet to get her checked out. While she was there, the dog received all of her shots.
Don't worry, this sad story has a happy ending, as one Habit employee who instantly took a shine to Mystery took her to the Humane Society later in the day and is hoping to be able to adopt her soon.
Still, the question remains, why would someone abandon this little sweetie inside a cage in front of the store, especially during the current heat wave that is bearing down on the Sioux Empire at the moment?
Workers are hoping the person who left the dog outside their building just got confused, as the Habit for Humanity Store is in fairly close proximity to the Sioux Falls Humane Society building.
Thankfully, the puppy was discovered before she succumbed to the grueling heatwave blanketing the Sioux Falls area this week.
This story should serve as a good reminder for every dog owner, as Maggie Grapevine, an adoption counselor at the Sioux Falls Area Humane Society told Dakota News Now, "Dogs can't regulate their heat like humans can, so one thing, if they're out there in the heat, especially a lot of dogs out here with thicker coats if they don't have access to water and shade, they are going to deteriorate pretty quick."
Remember, if you ever find yourself in a position where you are no longer able or willing to care for a pet you own, the Sioux Falls Humane Society is an open-admission shelter that is ready and willing to take in any animal. They have a staff of great people that love and care for all animals.
The Human Society accepts all strays during business hours and even has a night receiving area for emergency surrenders and strays found after hours.
Their pet adoption process is conducted via an application form that can be found here.
The Sioux Falls Human Society is located at 3720 East Benson Road. They are open every Monday-Wednesday from 11:00 to 6:00 PM. (Closed Thursdays for cleaning.) But reopen on Fridays and Saturdays from 11:00 to 6:00 PM, and Sundays from 11:00 to 4:00 PM.
Source: Dakota News Now
WOOF: These are the most popular dog breeds in America
10 Deadliest Creatures in US: South Dakota Has Lots of Them
The deadliest animal in the U.S. isn't the alligator or bear or even the mighty shark. In fact, the answer may surprise you.
It may also surprise you how many of these creatures can be found in South Dakota.
Here's the top 10:
More From KKRC-FM / 97.3 KKRC