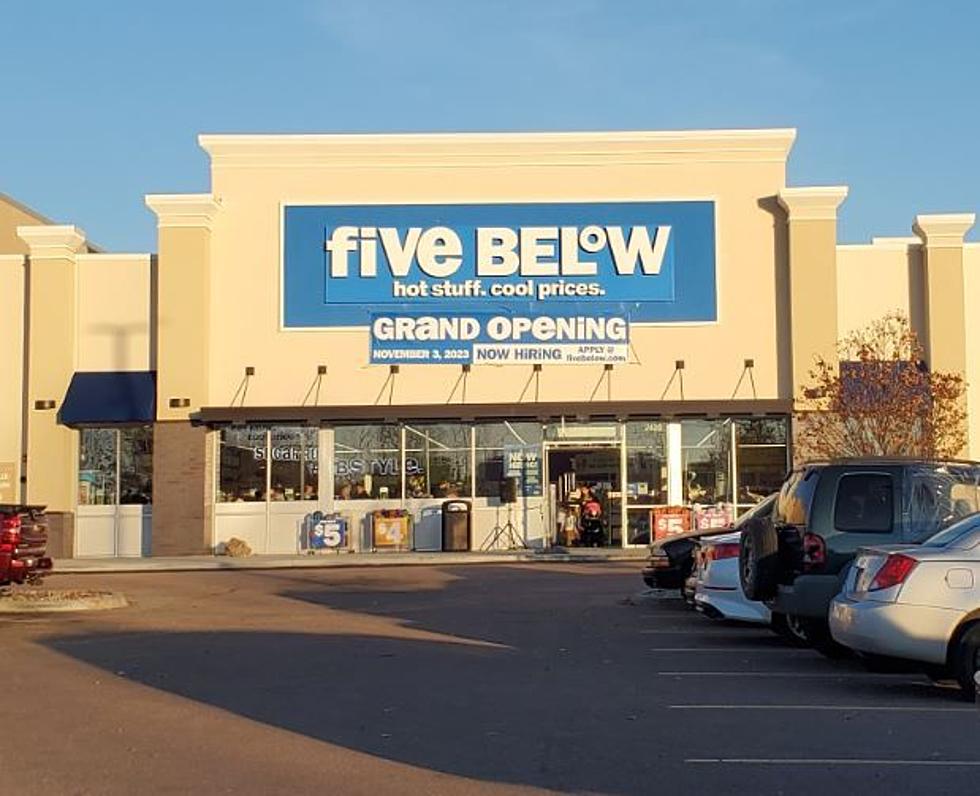 5 Below Now Open in Sioux Falls. We Have a Sneak Peek.
Karla Brown/Townsquare Media
5 Below is Now Open in Sioux Falls. Here's a Sneak Peek
Have you ever walked into a store and just wanted to yell, "Take all my money!" That's how I feel at 5 Below. It's stuff you probably don't need, but have to have.
Okay, I'll admit that the majority of their clientele is probably in their tweens and teens, but it's a store everyone will love because you can find super cute stuff for really cheap, and who doesn't love a trendy bargain?
At 5 Below, most items are $5 or less, with some inventory priced a little higher in their Five Beyond shop. The items they carry are higher quality than products you'd find at a normal dollar store.
Whether your daughter wants a Squishmallow or you need a candy fix, you'll find it at 5 Below. College kids decorate their dorm rooms with finds from 5 Below. Need a phone case or cord? The selection is huge. There are beauty products, books, arts and crafts stuff, toys, clothing, and my favorite section, CANDY!
Hours are 10:00 AM-9:00 PM Monday through Saturday and 10:00 AM-7:00PM Sunday. The new 5 Below has several self-checkouts and that speeds up the line.
The grand opening is Friday, November 3, 2023, but they're open now!
Gallery Credit: Karla Brown / Townsquare Media
Dives Worth a Drive in South Dakota, Iowa and Minnesota
Almost every small South Dakota town has a watering hole. It's where the locals go to kick back a few brews and engage in conversation.
Some of these establishments are located in
buildings almost as old
as the town itself. There might be a fresh coat of paint on the walls or new vinyl on the booth seats, but the ambiance is still reminiscent of a good ol' dive.
If you think a "dive" is all about the sketchy clientele, the smell of the Devil's lettuce, and stale
Grain Belt
, you'd be wrong. Not
every
dive has a bad reputation.
What makes a dive, a dive?
A dive has character. Neon beer signs and local memorabilia adorn the walls.
You might find a pool table, dart board, and a few video lottery machines.
The bartender knows the regulars by name and they know what you drink.
Some dives don't even serve food except for bags of chips and pickled eggs that sit in a jar of brine on the bar.
Dives aren't fancy. You might see 70's-style wood panels on the walls and wobbly tables leveled with a folded napkin.
Finally, the bathrooms. The bathrooms in dives are in a class by themselves and could be a whole topic on its own.
There are several small-town dives in our area with friendly faces, cheap booze with a burn, and even really good food! We use the term "dive" in the most affectionate way.
Here are some of the best and why you should go there.
Gallery Credit: Karla Brown
The Ultimate Sioux Falls Visitor's Guide: A to Z
Sioux Falls
has lots to explore; fun stuff for the whole family, food of every kind, educational opportunities, and more! If you have out-of-town guests visiting, show them around our city. Eat at places they've never eaten. Take them to places they'd never go. Take some great photos to post on social media (
and don't forget the hashtag #HiFromSiouxFalls).
We've even listed some cool hotels where they can stay if you don't have the room.
It's a pretty awesome city and that's why we think you should come and visit. If you're coming on business or pleasure, we've put together a list of places to go and things to see. We know you want to explore the attractions the city is known for like Falls Park, the Arc of Dreams, and the Sculpture Walk, but there's a lot more to see and do than just the touristy (that's really a word) stuff. The best places to go are where the locals go and we have a not your average, ordinary visitor's guide.
Here's a list of over 100 things to do and places to go in Sioux Falls.
Click
HERE
for a list of all the places we mention and links to each one. Print it out or save it to your phone and use it as a reference when you're visiting. See you soon!
Gallery Credit: Karla Brown - KKRC
More From KKRC-FM / 97.3 KKRC