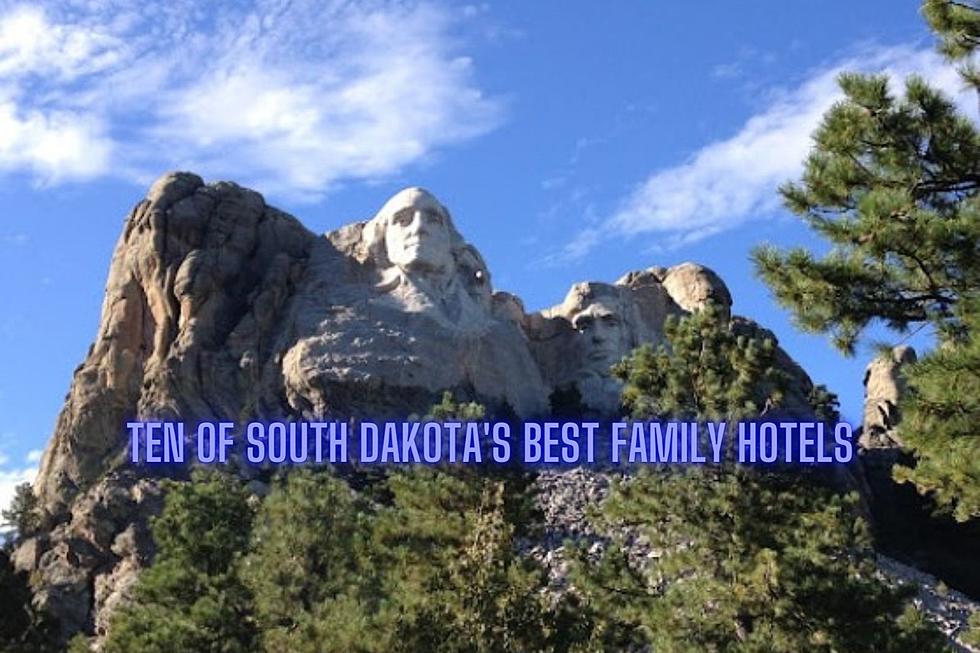 What Are South Dakota's Top 10 Best Family Hotels?
Google Maps
With the summer vacation season fast approaching, seriously, it is on the way! It will stop snowing one of these weeks, trust me, and when it does, you're probably going to want to take a vacation, right?
If the high cost of just about practically everything has you a little spooked these days, you might be looking to save a few bucks this summer by taking the family on a series of staycations right here in South Dakota.
If that's the plan, a company called Family Destinations Guide has put together a list of some of the best hotels in South Dakota that the entire family is sure to love.
When it comes to the best family hotel destinations here in the state, the great majority can be found in the western half of South Dakota, out in the Black Hills. And it only makes sense, as that portion of the state is known for having some of the top tourist destination spots in all of South Dakota, and even the nation, depending on who you ask.
So, without further ado, let's start our trek through 10 of South Dakota's Best Family Hotels according to the folks at  Family Destinations Guide.
The DoubleTree by Hilton, located at Cadillac Jacks in Deadwood
Obviously, if you're thinking of Deadwood as a vacation destination, you and the family must be fans of the Old West and gambling. The city of Deadwood specializes in both.
Cadillac Jacks is a very popular casino in Deadwood, and according to Family Destinations Guide, the Hilton Double Tree Hotel there is a perfect complement.
The Country Inn and Suites by Radisson
This popular vacation hotel spot is the only hotel in the Top 10 that can be found in South Dakota's largest city, Sioux Falls. According to Family Destinations Guide, it provides easy access to many tasty Sioux Falls restaurants, as well as shopping destinations, and fun local attractions throughout the city. It also serves up an excellent scenic view of the Big Sioux River.
The Arrowwood Resort at Cedar Shore
This South Dakota hotel destination can be found on the banks of the Missouri River in Oacoma, South Dakota.
If your family enjoys fishing, boating, and the great outdoors this hotel is perfect for you. Family Destinations Guide raves about their on-site marina and numerous fun activities like swimming, pontooning, and boating. The Arrowwood also boasts a fun playground for the kids and 44 different campsites for the family to enjoy.
Cambria Hotel in Rapid City
Another one of South Dakota's best hotel destinations is just off Interstate 90 near Mount Rushmore. The folks at Family Destinations Guide claim the Cambria is perfect for vacationing families in search of a kid-friendly hotel. The Cambria offers a wide variety of things kids of all ages will enjoy. Plus, it's located close to family-fun locations in Rapid like, Dinosaur Park, Story Book Island, the WaTiki Water Park, and more.
Ramkota Hotel in Watertown
Family Destinations Guide list this hotel as another one of South Dakota's top resting spots. The Ramkota Hotel in Watertown, located in the eastern half of the state is a 3-star hotel that's sure to please the entire family. Not too far from Lake Kampeska and Pelican lake, a couple of South Dakota's favorite hiking, fishing, and kayaking spots. The Ramkota Hotel in Watertown has a wide array of fun and relaxing things for everyone in the family to enjoy.
The Lodge at Deadwood
Time to head west river again, for our next stop on the Family Destinations Guide list of South Dakota's best hotels. Nestled inside one of South Dakota's coolest little towns, the Lodge at Deadwood is an absolutely perfect destination for any family who loves to have fun at indoor waterparks. The gang at Family Destinations Guide goes so far as to say this particular hotel waterpark is one of the best you can find in the state.
Hotel Alex Johnson in Rapid City
The Hotel Alex Johnson in Rapid has a storied history behind it. Having a reputation for being one of the most haunted hotels in South Dakota, the Hotel Alex Johnson has several spooky stories to tell. If you stay there, be sure to ask about the "lady in white."  Besides being known for its paranormal activity, six former U.S. Presidents have also stayed at the Hotel Alex Johnson. The Hotel Alex Johnson also boasts a very cool Vertex Sky Bar that allows for a stunning view of South Dakota's beautiful Black Hills.
If you're looking for a bit of history, mixed with luxury, the Alex Johnson is the ideal choice for you.
Whispering Wind Cottages and Campsites
Here's another South Dakota hotel spot found inside the heart of the Black Hills. If you and the family love nature, and want to catch a breath of fresh air, Family Destinations Guide recommends the Whispering Wind Cottages and Campsites in Hill City. They offer very nice cabins and campsites that are perfect for a South Dakota summer night.
Stay USA Hotel and Suites
Here's yet another popular hotel that can be found in western South Dakota. Located very close to many of the Black Hills' best tourist spots, the Stay USA Hotel and Suites in Hot Springs is another highly recommended hotel by the Family Destinations Guide crew.
It's also pet friendly should you plan on bringing along the four-legged members of your family.
Rushmore Express and Suites
If the Mount Rushmore National Monument is in your family vacation plans this year, Family Destinations Guide recommends you take a stay at the Rushmore Express and Suites in Keystone. Located within a stone's throw of Mount Rushmore, the Rushmore Express and Suites is the perfect hotel stop for the family whose primary vacation destination is to catch a glimpse of The Faces. Mount Rushmore is just a short 9-minute drive away. This South Dakota hotel offers the perfect mix of luxury, warmth, and comfort for any vacationing family.
There you have it, ten of the best family hotels in all of South Dakota according to the travel experts at Family Destinations Guide.
Wherever the holiday road takes you and your family this year,  please make it a safe and fun summer vacation season. And thanks for visiting South Dakota!
Dives Worth a Drive in South Dakota, Iowa and Minnesota
Almost every small South Dakota town has a watering hole. It's where the locals go to kick back a few brews and engage in conversation.
Some of these establishments are located in
buildings almost as old
as the town itself. There might be a fresh coat of paint on the walls or new vinyl on the booth seats, but the ambiance is still reminiscent of a good ol' dive.
If you think a "dive" is all about the sketchy clientele, the smell of the Devil's lettuce, and stale
Grain Belt
, you'd be wrong. Not
every
dive has a bad reputation.
What makes a dive, a dive?
A dive has character. Neon beer signs and local memorabilia adorn the walls.
You might find a pool table, dart board, and a few video lottery machines.
The bartender knows the regulars by name and they know what you drink.
Some dives don't even serve food except for bags of chips and pickled eggs that sit in a jar of brine on the bar.
Dives aren't fancy. You might see 70's-style wood panels on the walls and wobbly tables leveled with a folded napkin.
Finally, the bathrooms. The bathrooms in dives are in a class by themselves and could be a whole topic on its own.
There are several small-town dives in our area with friendly faces, cheap booze with a burn, and even really good food! We use the term "dive" in the most affectionate way.
Here are some of the best and why you should go there.
More From KKRC-FM / 97.3 KKRC