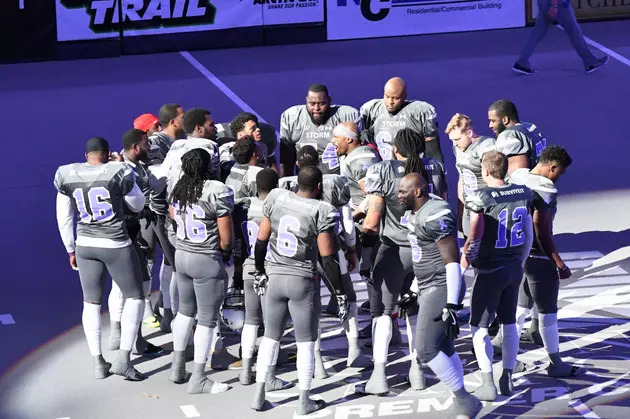 Storied Indoor Football Franchises to Meet for United Bowl Championship
Courtesy Nate Wek, South Dakota Public Broadcasting
People expect that the Sioux Falls Storm will play for a championship each year. It's the case again for 2017. Their opponent also has an impressive championship résumé.
For the 8th consecutive year, the Sioux Falls Storm have punched their ticket to the United Bowl. The team is money when it comes to championship game appearances going 10-2 since 2004. They have also won six of the last seven titles, with their lone loss in that stretch coming in 2010 against Billings.
In that time the Storm has defeated three different franchises in six championship games. Sioux Falls beat Tri Cities (2011, 2012), Nebraska (2013, 2014, 2015), and Spokane (2016)  in this current, unbelievable, stretch of championships.
So what's different this time?
Nothing against any of those franchises listed above. They have seven combined conference titles and one championship (Tri-Cities, 2005, National Indoor Football League). None of those franchises has the résumé that the Arizona Rattlers boast.
Arizona entered the IFL at the beginning of this season after spending 24 years in the Arena Football League. The team, which is based out of Phoenix and plays home games at Talking Stick Resort Arena, has won five Arena Bowl Championships. They won titles in 1994, 1997, and then went back-to-back-to-back between 2012-2014.
The Rattlers were welcomed to the IFL this season with a road game against the Storm. Sioux Falls won the contest 40-29 at the Denny Sanford PREMIER Center. Arizona would go on to be the top team in the Intense Conference with a 12-4 overall record, and secure their spot in the championship game with a 62-36 win against Nebraska.
141 days will have past since that last meeting. A lot has changed for both teams in that time. One thing is for sure...
It's history vs. history and probably the most intriguing United Bowl match-up in quite a few years. With all the teams crossing over from the AFL the last few seasons, this game feels like it's the IFL vs. AFL. It feels like history will be made and that it will be something special to be a part of.
Sioux Falls will host Arizona in the 2017 United Bowl on July 8th at the Denny Sanford PREMIER Center. The game is scheduled for a 5:05 CT kickoff. Tickets are available through Ticketmaster and the Denny Sanford PREMIER Center box office.
---
More From KKRC-FM / 97.3 KKRC