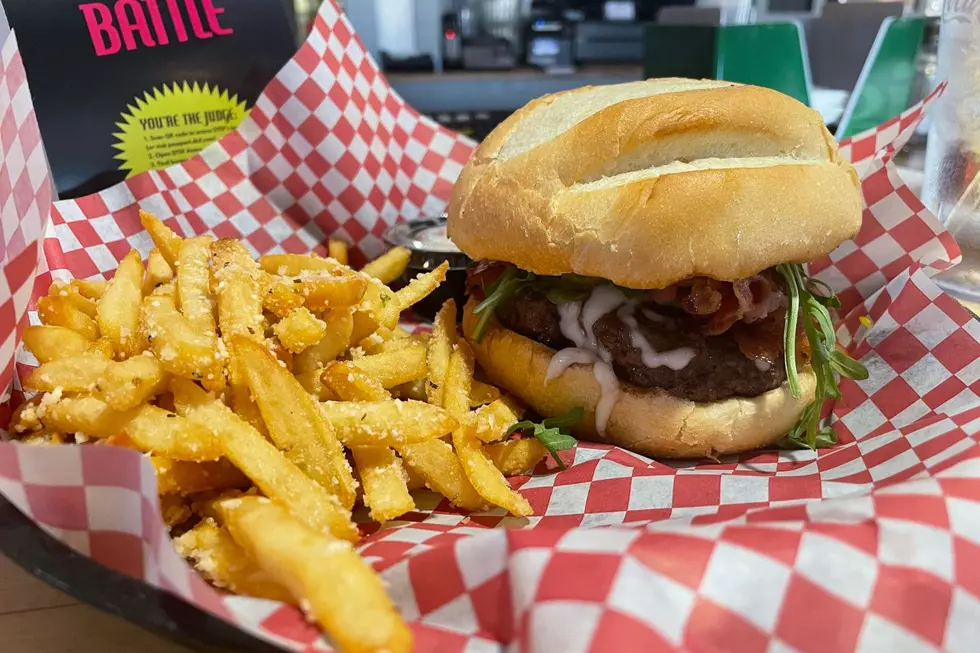 Downtown Sioux Falls Burger Battle: Falls Landing Bar & Grill
Christine Manika (TSM)
January in Sioux Falls only means one thing...Burger Battle! This year's Downtown Sioux Falls Burger Battle is pretty intense. 32 savory burgers from local Sioux Falls restaurants are looking for your stomachs and votes.
The next burger I couldn't wait to taste comes from Falls Landing Bar & Grill. It's called "The Mario Burger." Imagine the video game "Mario Cart" as a burger. These ingredients include all the classic Mario accessories, like the "banana peel."
According to a previous article from my co-worker Jeff Harkness, the Mario Burger is "a brisket chuck blend topped with crispy prosciutto, Bacio cheese, arugula, pickled pepperoncini and arbiatta ketchup served on an artisan round bun. Comes with pesto fries dusted with grated parmesan." There are even hints of banana peppers on the burger...see what I mean by banana peel (haha)!
This burger really satisfied my appetite. The patty was juicy, and the brisket magnified this flavor. The hearty serving of Bacio cheese had me asking for more! The pesto fries dusted with grated parmesan were just the cherry on top of this meal. Without question, this entry has certainly been one of my favorite burgers in this year's competition!
More reviews from this year's Downtown Sioux Falls Burger Battle can be found here:
Don't forget! Residents can vote for their favorite burgers by Tuesday, January 31st on the DTSF Mobile Passport. Get to eating, Sioux Falls!
Tour the 2023 Downtown Sioux Falls Burger Battle
If you've never participated in the Downtown Burger Battle, this is how it works:
Review the participating restaurants and their burgers
Make sure you check their schedule and hours before you go
Go to one of the restaurants
Eat the burger
Use the DTSF Digital Passport to vote and rate the burger
Repeat
And you could win prizes
And you help one downtown restaurant win the Burger Battle and reign supreme for one whole year!
Voting criteria consist of patty, creativity, toppings, bun, and customer service.
Sioux Falls Top Ten Restaurants
Sioux Falls
has no shortage of amazing restaurants. There's a little something for everything here, but the question is, which are the best?
Well, according to
Trip Advisor
, these are the top ten eateries in the city of Sioux Falls. Is your favorite spot on the list? Take a look.
Birthday Freebies You Can Get at Sioux Falls Businesses
We've added even MORE birthday freebies from
Sioux Falls
businesses.
Everyone loves free stuff, especially on your birthday. Most of the freebies require you to sign up for their rewards program, e-mail list, or mobile app, so make sure you plan ahead. Some of the offers are good just on your birthday, while others are good for a week or longer.
Of course, this is just a small list. There are many more businesses that offer free stuff for your birthday right here in Sioux Falls. You just need to ask! Or, choose your favorite business, check out their website, and sign up for their e-mail club. All offers are subject to change at any time. Call ahead or check their website for more details.
*List updated 12/28/2022 - Individual businesses may change their policies at any time.
More From KKRC-FM / 97.3 KKRC